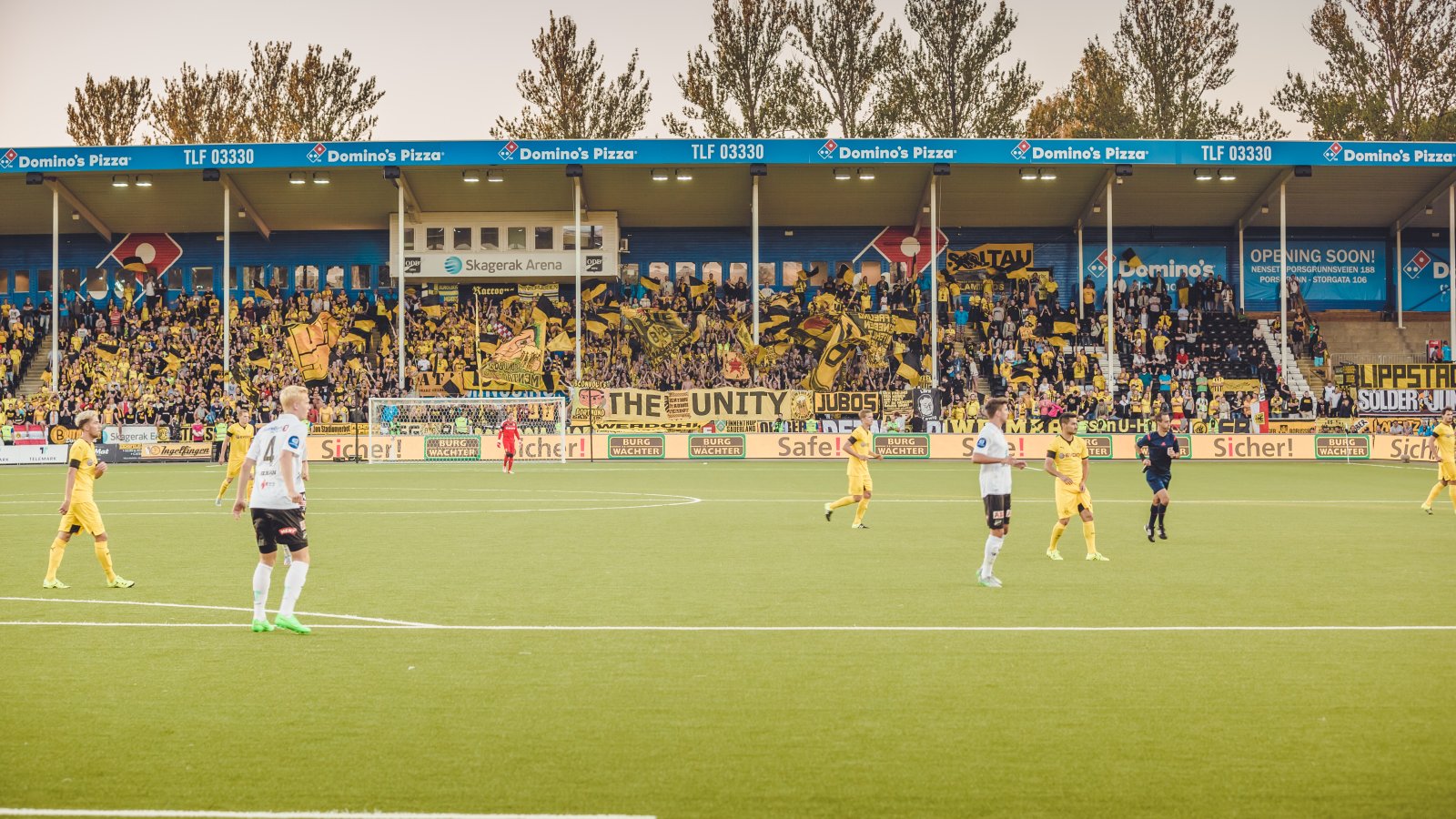 Despite losing 3-4 to Borussia Dortmund it was a night no one will ever forget!
Never before has there been 12.436 spectators at Skagerrak Arena. Never before has it been played play-off for the Europa League here. Never before has it been scored goals after 17 seconds. And has it ever occurred that Dortmund has been below 3-0 after 22 minutes in a Europa League match? Against ANY team? It was a totally unreal 1st half at the stadium today, in a battle no one here will forget. Incredible!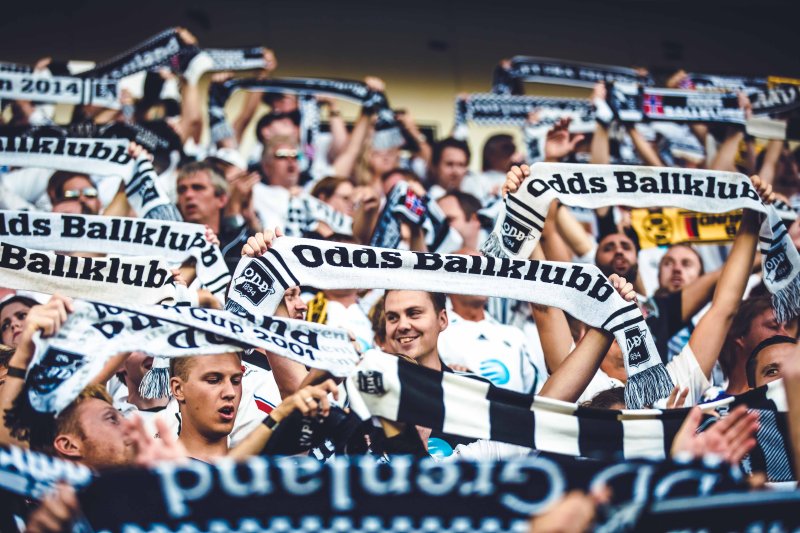 People could not believe their eyes when Odd took the lead just seventeen - 17 - seconds into the game. Odd went fearlessly out and shook the Germans when Rafik Zekhnini let into the head of Jone Samuelsen. The header enters behind Weidenfeller and the entire Skagerak Arena, minus a few thousand yellow shirts go completely crazy.
The Germans are shocked, the stadium is shocked. Apart from our players. And in the 19th minute it slams again. Olivier Occéan, the giant og the game initially, drible off a couple of Germans before he plays forward to Fredrik Nordkvelle. Alone with Weidenfeller Nordkvelle puts the ball in the net, and once again the arena explodes into raptures. People do not believe what's happening.
It doesn't "help" when Odd does it again just three minutes later. Now it's Espen Ruud who gets an incredible hit on a free kick that roars behind a flurry Weidenfeller. The latter has barely touched the ball so far, except when he has taken it out of the net. It is completely unreal.
Dortmund has naturally much possession and put some pressure on Odd, but has not created many chances against Rossbach. A couple of good shots that slams the pole and crossbar, but otherwise Odd has had control.
Until 34 minutes. Rossbach has to return a fabulous shot, and lightning Aubameyang is first on the rebound. Dortmund gets an easy goal, and an important equalizer before the break.'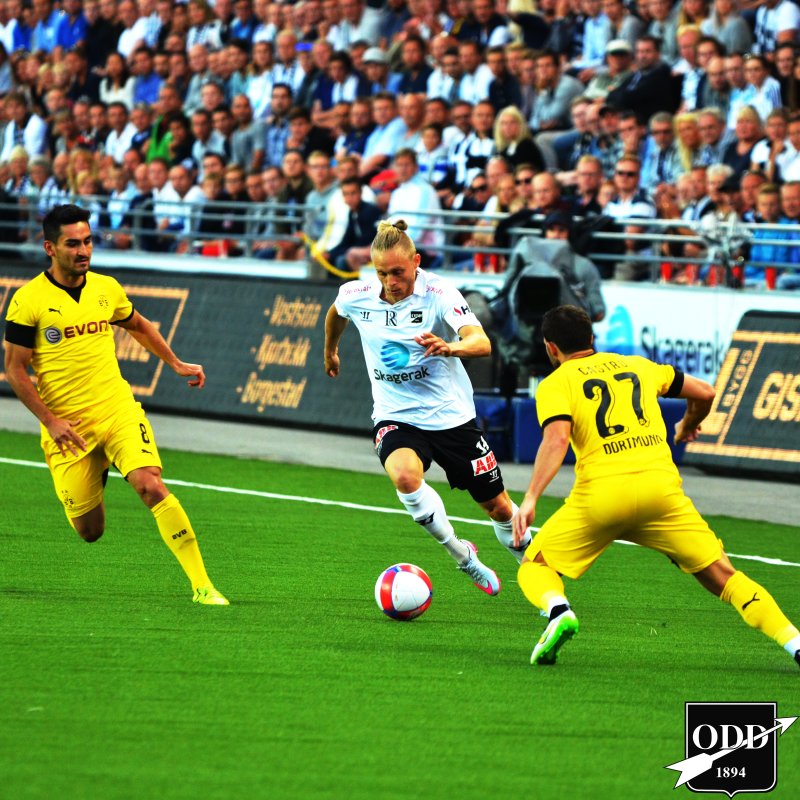 The second half is largely about Dortmund, which pushes Odd fully into their own 16 meters. Already after a few minutes Dortmund reduces, this time by Shinji Kagawa. Odd doesn't manage to clear a powerful cross along the ground and then the Japanese hammers the ball into the back of the net.
A tired Odd are not able to keep up the pace. There IS a difference between the Norwegian and top European football, and it appears now.
After 76 minutes, 3 - 3, once again from Aubameyang. It goes fast when the Germans speeds up their counter play. After 84 minutes Dortmund completes the turnaround with their fourth goal. Mhkitaryan gets the honor of setting the final score to 3-4. Odd had only 10 men on the pitch, after Vegard Bergan receiving treatment for bloody nose on the sidelines.
A brilliant audience gets up and cheering and slapping guys on. There are many proud supporters here now, who value the job the guys did on the field. They are surely just as proud as we are of what was performed on the field today.
We may have lost the battle, but we also won many European football hearts that night. For it is a great achievement that was shown. Now we're just very proud, although we realize that the dream of going further might be over. Playing against 11 extremely good players in front of 68,000 crazy fans at Signal Iduna Park, the job becomes more than a little difficult. To say the least.